This is my first book for
Angie's February TBR Challenge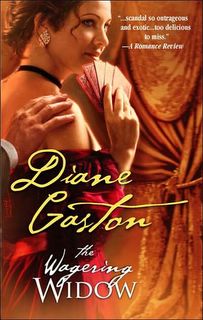 Title:
The Wagering Widow
Author:
Diane Gaston
Year published:
2006
Why did you get this book?
The first in this series received rave reviews and since I'm having a hard time finding it, I had to order it. I decided to pick this one up, and then decided to read it even though I knew it was part of a series.
Do you like the cover?
Yes, I liked the cover.
Did you enjoy the book?
Yes
Was the author new to you and would you read something by this author again?
New to me and I would definitely read her again
Are you keeping it or passing it on?
Keeping it at least until the series is finished.
Anything else?
This is one of those books the more I thought about it the more I liked it. Rarely do I prefer the heroine to the hero of a book, but this book has a great heroine, the hero is good too, but I really liked Emily and thinking about how she bullies her brother makes me laugh, probably because I can still bully mine.