Mini confession time, I misplaced my glasses, this is the main reason reading has been non-existent. They showed up Thursday--Kristie's theory works, instead of obsessing about it, eventually everything lost will be found.
Cold as Ice
by Anne Stuart was the first book I'd finished in close to 2 weeks. And once again Anne Stuart comes through with a good book. Peter Jensen is a closer for "The Committee," deep cover operatives that fight to stop terrorism and bad guys all over the world. He's working for Harry Van Dorn, an over the top villain planning 7 terrorist attacks on the same day in order to cause financial chaos all over the world, somehow he is going to benefit from this (it's a little vague as to why, but I guess that didn't really matter). Genevieve Spenser works for Harry's law firm and stops to have Harry sign some documents before leaving on 6 weeks of vacation. Well, of course she is plunked down right in the middle of the stop Harry at all cost operation. And, she's not smart enough to get out while the getting was good, not that she's TSTL but she thinks Harry's the wonderful guy the media projects. Genevieve is at times annoying, but this really feels like Peter's book so I was able to get past most of her stupid moments. The book isn't perfect, but it's an exciting adventure definitely worth reading.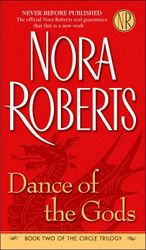 I was actually 100 pages into this one when I picked up Cold as Ice. And once I found my glasses
Dance of the Gods
turned out to be the 3rd book I finished in 2 days. This book was work for me. I liked Morrigan's Cross and thought it was a good set-up for the series. This book wont stand alone, I didn't expect it to, which is fine, it's part of a series that needs to be read in order. I had three issues 1. there's additional world building going on, the first book sets up the vampire world, this one sets up Geall where the ultimate war between vampires and humans takes place. 2. I never warmed up to the h/h, Blair and Larkin, not a good thing for a romance--LOL. It's not a bad book and once the Circle of Six makes it to Geall the book gets better. And the odd thing is by the time I finished the 3rd book in this series I loved all the characters. 3. There are a few little info-dumps, enough that I started to notice them.
The 4th book I finished was Nora Roberts
Valley of Silence
. I loved this book, for me it was a complete page turner. Moira is a wonderful Warrior Queen and Cian is perfect as the Noble Vampire. I cried through this entire book. They've had 2 books to fall in love, they declare themselves early in this and know that ultimately their love can't exist in their worlds. All the characters come to detailed life, including the vampire family of Lilith, Lora, Davey and their protector Lucius. It's filled with scary and fantasy moments. Some may find the ending somewhat contrived, but it's a romance. Moira and Cian have to find a HEA and this one works for me. This may become my favorite NR and since I've read just about everything she's written that's pretty darned good.

Did you notice I skipped the second book I finished? It was a god awful Historical Erotic Romance that I read in a NyQuil induced haze. Two hundred and five pages of boring--I refuse to comment on it until I go back and reread parts to see if it's actually better than I thought and try to figure out why it was considered erotic because I wasn't all that impressed, it was a waste of good money.
Have a good one and happy reading.