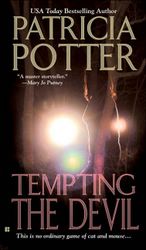 Tempting The Devil
was the first Patricia Potter romantic suspense I've read, she's been writing them for a while now and for some reason I didn't follow her from historicals to RS. I think she switched when I was in my 2 year reading slump a few years ago. I'm not sure what I was expecting, but I didn't expect to be disappointed with a major premise of the story.
Three police officers are killed execution style while on patrol in rural Georgia, Robin Stuart is a reporter covering the story. She has a source in the Sheriff's Office who insists on anonymity tell her he thinks a Mob organization called HYDRA is involved and that someone in the Sheriff's Department is in on it. She writes her story and enter Ben Taylor, FBI agent, he wants her source. She and her paper are prepared for this, talk about this, plan for this.
The major flaw in the story--no one involved in the article outing HYDRA and the Sheriffs office expect the "Mob" to go after the reporter for the source. Well, gee whiz, they've killed 3 cops do you think they'll hesitate to kill a reporter or her family??
Conversation between the reporter and her editor:
"Now the bad guys have threatened my sisters if I give it to anyone but them. They want the name. I don't think they'll stop at anything to get it."

"I'm sorry, Robin. I didn't see this coming."

"Neither did I."
Conversations between Robin and her source:
"...You started this by giving me information you knew--a lot better than I--was very dangerous."

"I never thought they'd come after you."
You know what? I may not be a brain surgeon, just a lowly reader, but I saw this coming. How could the reporter, source and editor not make this connection? I didn't think the reporter shouldn't write the article, just be prepared for all the consequences, not just a pissed off FBI. The source was insistant that his family would be a target, why wouldn't the reporters family be a target too? This really bugged me, maybe I'm nit picking.
I think I'll reread her old westerns and avoid her romantic suspense. Oh well, live and learn.