Thursday we went to the library for our weekly "Story Time" and I picked up a few books. And, Saturday we hit B&N--I'm still using my gift cards, if I'm careful with said gift cards, I may make it to the March book releases.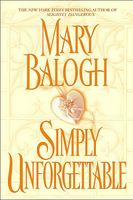 At the library I picked up Mary Balogh's
Simply Unforgettable
and a couple more Kasey Michaels' books. I have absolutely no interest in the Michaels, but
I THOROUGHLY ENJOYED SIMPLY UNFORGETTABLE.
I love Mary Balogh, probably bordering on fangirl, so it's not a huge surprise that I would love this one.
I listed the book as great, but it has a few problems, yet I enjoyed it enough to overlook anything I didn't think was perfect. I haven't looked for any reviews, but I'm sure you can find one over on
RT
or
AAR
, and I'm pretty sure I actually did read a review on
Rosario's Blog
, but I don't remember when that was, if I get ambitious I'll go search out the post and link it here.
I have no idea how I missed this when it came out last March. The only thing I can think of I was being cheap and decided to wait for the MM release. I'm glad I decided to pick it up at the library.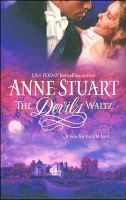 Saturday's visit to B&N was also successful. I found a Paula Quinn and
the new Anne Stuart The Devil's Waltz.
I've got one thing to say about it
ANNE STUART ROCKS!!
It doesn't matter if it's romantic suspense or historicals her books are great and this one is no exception. I started this as soon as we got home, put it down long enough to have some pizza for dinner and get Junior in the shower and into bed. And, finished it before 9:00 last night.
We have a house full of company coming today and I need to get in the shower and get to Mass. If I have time, I may try to post an actual review of
The Devil's Waltz
sometime tonight or tomorrow.
Have a good one, and happy reading.
Tara