It turns out Joyce Ellen Armond's
Bond's of Darkness
is an important part of several new

firsts
for me...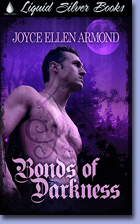 It's the first book I finished in 2007
It's the first book I read on my new ebook device
And it's the first book published by Liquid Silver Books that I've read.
It also is Ms. Armond's first book--that's a bunch of firsts--LOL.
And I'm glad I can say the first book I read on my new eBookMan was a Good one. First the book review then the device.


Everything's going wrong for victim's advocate Kate Scott.

Her job's a mess, her hair's a mess, and her love life is stuck in perpetual flirt with the mysterious Paul.

Whether she admits it or not, Paul's her Mr. Right. His jokes make her laugh. His touch makes her shiver.

He's perfect-except for his curse. And the sorcerer who cursed him. And the demon.

Kate Scott is a victim's advocate having a rough time with one particular victim. For the past year she's been having breakfast every day with "Breakfast Paul" and her best friends have decided it's time for her and Paul to move their relationship forward.

Paul's been cursed and has lived 100 years with a deep dark secret.

Sander Wald is the sorcerer who has controlled Paul for all this time and he's decided it's time to take even greater control, torture Paul a little bit more.

In the past Paul has reached out to a local coven of witches for help in breaking the curse. This ended in disaster and he's very leery to risk anyone elses life.

Because this is a paranormal it's hard to go into too much detail without giving away parts of the story.

What worked...


Kate and Paul have an existing relationship slowly built on friendship and desire.
Paul's and Sander Wald's backstories aren't dumped in the beginning of the book each unfold as the story is told.
It's a paranormal that doesn't include vampires or werewolves but rather good witches, an evil sorcerer and a demon who is both frightening and itself frightened--nice touch.
The character development is good and pretty consistent.
The pacing good, writing voice and style fairly smooth.
There's a nice balance between the paranormal and romance!
What didn't work...
There are a few editing issues, little inconsistencies, not horrible, but I did notice them.
Kate sometimes annoyed me, which isn't unusual with heroines--LOL
Paul is at times a little to resigned to his situation, but of course he's had 100 years of dealing with it.
The demon's identiy is easily figured out and sometime over the last 100 years Paul probably should have realized what was going on.
I'd have liked more backstory on Paul and the two witches, Laurie and Vern, relationship.
The Device--eBookMan EBM-900...
It's easy to use.
It isn't backlite, so there's a lot of reflection when reading in light.
It's a little small--a 170+ page book turns into 1400+ pages on this little unit.
It's never going to replace real books, but it is very portable and a bit of a space saver.
So there you have it, my first eBook was a success. Congratulations Ms. Armond on a good first book.