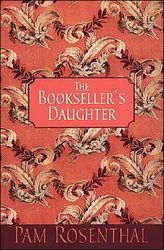 So tell me, am I the last romance reader to read Pam Rosenthal's
The Bookseller's Daughter
??
On my last trip to the UBS I picked up this book, somewhere in the house is Ms. Rosenthal's first book,
Almost a Gentleman
, a book I started, put down and haven't found since. I think it may be in the black hole under my bed. It's now imperative that I find it.
I love Ms. Rosenthal's style and voice. TBD was somewhat slow to start, but the writer's lyrical voice kept me completely interested, even through some pretty sad choices that the heroine makes. Set in an interesting time and place, Pre-French Revolution Provence and Paris. The hero is an impoverished 2nd son of a Duc, the heroine is obviously The Bookseller's Daughter. The villains and villainess are over the top. The love letters written between the h/h are erotic, but also sensual.
Like Hope Tarr's
Vanquished
there is a subtle underlying sensuality to this erotic romance that I find completely lacking in most ER novels. I think this comes from the author's writing style and voice.
I definitely need to find
Almost a Gentleman
because it's next in the reading queue.
File this one under
Good Book