Well, I finished
Angies's TBR Challenge
before it really started. This months challenge is to read a historical, since most of what I read falls under the category of historical this one wasn't much of a challenge, but here goes: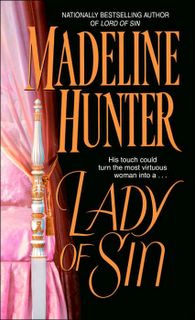 Title: Lady of Sin

Author:
Madeline Hunter
Year published:
2006
Why did you get this book?
Actually I'm not really sure why I got it, I love MH's medievals, but haven't been that thrilled with this series.
Do you like the cover?
It's not bad, but maybe a little too much pink on the bed, but overall not bad.
Did you enjoy the book?
Surprisingly, yes
Was the author new to you and would you read something by this author again?
No not new to me and yes, I'll read more.
Are you keeping it or passing it on?
I'm going to keep it for now.
Anything else?
This book really worked for me, which I find somewhat surprising considering I haven't loved this series, though I did like
The Romantic
and may do a reread. I have absolutely no memory of
Lord of Sin
and will probably have to search out a copy to see if it jogs any memories. I know it's all rather vague but I need to make sure Junior is sipping his coke, so I'm running back and forth from the home office to his room. I probably should have waited to post this until he was feeling better, but I needed a little break.
If I get ambitious I'll post something more coherent tomorrow.
Have a good one and happy reading.
Tara