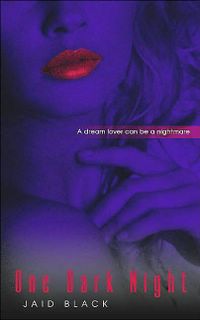 I've decided sometimes it's better to go into a book with absolutely no preconceptions. When I picked up Jaid Black's
One Dark Night
, I had heard no buzz, considering it's a 2004 release, that's not really surprising. I've never read any of her books, but knowing she's the publisher behind Ellora's Cave, I assumed it would be "hot"--it was.
I was pleasantly surprised by this romantic suspense, it was a quick read, read it while waiting for Junior to get out of school yesterday. I'm sure some of the other mothers think I'm rather strange. When I don't have errands to run, I sit out in the school parking lot and read for the 2 1/2 hours he's in school.
Getting back to the book--it was a good little RS, nice balance of suspense and relationship. By reading the blurb, I knew it would be a domination/submission book--not necessarily my thing, but I was curious. She did a good job explaining why a career woman, in a stressful job would be interested in being completely dominated by a man. Though not for me, it was entertaining. I have to admit, when the hero calls himself "Daddy" I cringed, but maybe this is typical of this type of relationship.
I wouldn't want a steady diet of this type of book, and it's not a keeper, but it was a pretty good book.
Have a good one and happy reading.
Tara